News

Shanghai, China Weather Forecast During the Conference Dates
Oct. 19, 2017
The following is the weather forecast in Shanghai, China during the conference dates, which will be updated regularly.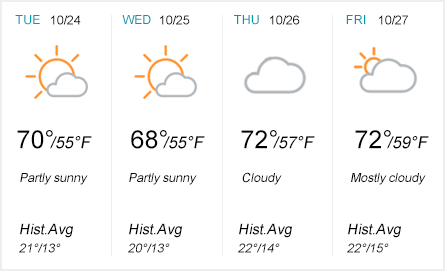 To know more details, please visit:
http://www.accuweather.com/en/cn/shanghai/106577/weather-forecast/106577

Tourism Route for ICEDUIT2017 is Available Now
Oct. 10, 2017
ICEDUIT2017 will be held in Shanghai, China, during Oct. 25-26, 2017. Oct. 24, 2017 is the registration time, Oct. 25, 2017 is the keynote session and panel session for the conference, and Oct. 26, 2017 is the time for the tourism. And here is the planned tourism route on Oct. 26, 2017 (from 8:00 to 17:00):
Oriental Pearl Tower (东方明珠), Shanghai Bund (上海外滩), China Pavilion at Expo 2010(上海世博会中国国家馆), City God Temple (城隍庙)
Learn more:
http://www.iceduit.com/2017/venue

Conference Guide is Available Now
Jul. 17, 2017
The conference guide for ICEDUIT2017,
ICAMIT2017
and
WCMEE2017
is available now, which will be sent to all the authors and participants via email. Please pay attention to the related information and get ready for the upcoming conference. Meanwhile, authors can also log in the system (
http://www.papersubmission.net
) and download the conference guide. The conference guide can be found in the menu of "My Manuscripts".

The Submission Deadline Has Been Extended to Sep. 30, 2017
Jun. 10, 2017
The submission deadline for the conference has been extended to Sep. 30, 2017, please click
http://www.papersubmission.net
to submit your paper if you have any interest.

ICEDUIT2017 Call for Papers
Nov. 2, 2016
2017 2nd International Conference on Education and Information Technologies (ICEDUIT2017) invites original and unpublished papers. The papers may include but are not limited to:
Education
Elementary Education, Educational Psychology, Educational Technology, Vocational Education, History of Education, Lifelong Education, Special Education, Preschool Education, Regular Education, Adult Education, Higher Self-education, Distance Learning
Information Technology
Electronic Technique, Laser Technology, Biological Information Technology, Space Technology, Sensing Technology, Communications Technology, Computer Engineering, Control Engineering, Automation, Intelligent, New Material Technology, New Energy Technology, Mechanical Technique, Industrial and Agricultural Production

ICEDUIT2016, ICECOFIN2016 and MGMTORG2016 Were Successfully Held During Oct. 27-28 in Jinan, China
Oct. 31, 2016
ICEDUIT2016,
ICECOFIN2016
and
MGMTORG2016
have been successfully held during Oct. 27-28, 2016 at Inzone Garland Hotel Jinan, China. Scholars and researchers from related research fields at home and abroad participated in the conference.
During the conference, all the participants actively showed their insights into the conference themes and freely exchanged their ideas and experiences. After the conference, they also joined the interesting tourism well-prepared by the Organizing Committee. Hereby, we extend our sincere gratitude to all the scholars and researchers for their attendance and great support to this conference. ICEDUIT2017 will be held in Shanghai, China in 2017. Welcome your participation.

In Chinese >